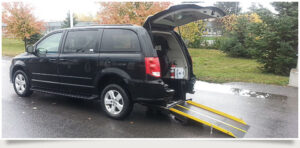 King Transit MVA Services Ltd™ is a trademarked and licensed mobility transportation provider created specifically to deliver mobility and accessible transportation services all across Ontario. King Transit's GPS outfitted vehicles ensure that our drivers always provide safe and efficient transportation in a professional manner thus ensuring clients get to their insurance assessments, mediation exams, legal appointments and social functions safely and on time without any undue stress. King Transit™ is dedicated to safe, reliable and cost efficient upscale transportation services. Our clients are treated with the respect and dignity that they deserve with our gold standard client service guarantee. We are transportation professionals. Transportation is our only business.
King Transit's upscale hybrid sedans and wheelchair accessible vans provide the very best in mobility transportation services without the exorbitant fees some providers charge. King Transit's business model includes a commitment to sustainability and environmental protection by promoting the use of hybrid and alternative fuel vehicles. Our respect for the environment and the clients that we serve has enabled King Transit to become the premier leader in mobility and personal transportation services in Ontario.
King Transit's GPS outfitted vehicles ensure that our drivers provide the very best in safe and efficient professional transportation services. At King Transit™ our drivers are professionals and have multiple years of experience transporting mobility and personal care clients. Drivers must pass an intensive orientation phase which includes a police reference check, sensitivity training, drivers license check (infractions/claims) and various other checks to determine professionalism. Additionally our drivers have been trained in defensive driving techniques and escort clients door-to-door with our gold standard concierge service. King Transit specializes in ensuring that clients arrive at their crucial insurance, medical, legal and social appointments safely and on time without any undue stress.
King Transit™ is the Rush Order & Special Request transportation specialist. Ontario wide service!
To place an order or to open a new account, please visit us online at www.kingtransit.com or call 416-208-5800. or Toll Free 1-866-243-0936. Receive an automatic reference number and a quick follow up from our friendly office staff.
King Transit™ is committed to sustainable policies and charitable works for a better tomorrow.